features Sharing your gender can help members connect to you
New gender options available when you update your practice information
In support of efforts around diversity, equity and inclusion, Magellan now gives you additional options when sharing your gender via the Provider Data Change Form. This means members seeking care will be able search for a provider by gender identity: female, male, non-binary, non-conforming, other, and transgender.
If you want members to have gender information about you, we encourage you to include it in your practice information.
Sharing gender information helps our members (your potential clients) chose a provider with whom they can identify, which can potentially improve outcomes.
Also, ensuring we have providers in our network who represent our members' demographics helps us keep our commitments to our health plan and employer clients.
You can help potential clients know if you are a good fit for their behavioral health needs by ensuring all your practice information is up to date, including information about your gender.
It's easy to validate your practice data online:
Go to www.MagellanProvider.com and sign in securely.
Under My Practice in the left-hand menu, click Display/Edit Practice Information. The first tab is the Provider Data Change Form.
Select your TIN/MIS combination and click Go.
Verify all information and update as needed. This includes your service address, phone number, office hours, gender, ethnicity, specialties, languages, and ability to accept new clients. Note: Select your gender from the drop-down list in the General Information section. Group practice administrators: Be sure to validate information for all practitioners on the roster by clicking Roster Maintenance.
Attest to the accuracy of your practice information on a quarterly basis. To fully complete this step, review each category; updated categories will reflect a green check mark.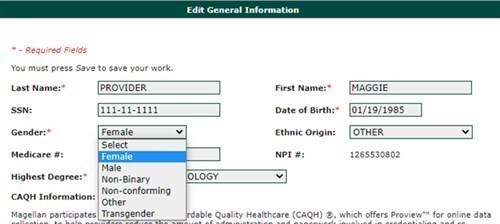 Help improve members' access to care by updating your gender
from the General Information section of the Provider Data Change Form.
Questions?
Contact the Provider Services Line at 1-800-788-4005, or chat with us at MagellanProvider.com. 
Why it matters
Keeping your practice data up to date through Magellan's online Provider Data Change Form is essential to ensuring appropriate referrals, appointment availability, and accurate and timely claims processing.
In support of NCQA and CMS standards and the No Surprises rules, Magellan requires participating providers to sign into our online Provider Data Change Form quarterly to validate the accuracy of their practice information.
Your information gets updated in our provider database in real time and is available to members who are searching for a provider with your gender, background, and expertise.
Thank you for serving Magellan members and for your regular and timely responses to our requests!