features Managing anxiety about the COVID-19 vaccine
As the new COVID-19 vaccine is administered across the country, many people are feeling a mix of emotions. There is hope that the vaccine will normalize life, and relief that the vaccine will save lives. There's also anxiety about its potential side effects, long-term effectiveness and availability. For some, vaccine concerns exacerbate the stress and uncertainty caused by the pandemic.
As a behavioral health provider, not only do you have to manage your own feelings, but you have the added challenge of helping your clients navigate this time.
Perhaps your clients are pressuring you to meet in person before you feel safe doing so. Or, you might be facing clients' misconceptions about the vaccine and the collective grief of dealing with a loss of normalcy.
Explore best practices in managing anxiety about the vaccine with Dr. Caroline Carney, Magellan's chief medical officer.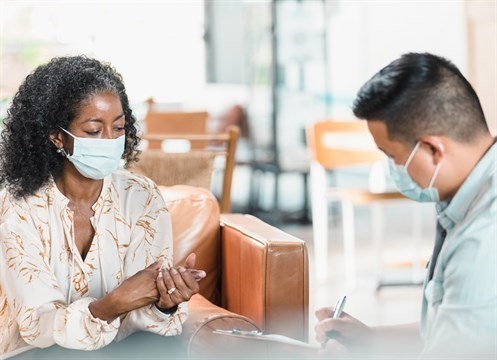 You are not alone. Magellan acknowledges the challenges you face in the current environment
and salutes you as you continue to support our members. Thank you.
If you feel overwhelmed, consider talking to a mental health professional via Magellan's healthcare worker phone and text line.
Resources for you, your practice and your patients/clients
Access our COVID-19 resources at MagellanProvider.com/crisis.
You'll also find a tip sheet on managing anxiety about the COVID-19 vaccine (PDF) that you can use in your practice. Don't miss Magellan's other tips for coping during the pandemic as well.