features Facilities: Remember to notify members of adverse determinations, level of care Magellan will authorize
Magellan depends on facility staff to inform the member when a service cannot be approved for medical necessity. We also ask that you communicate with the member about the level of care that is indicated.
Is this a new requirement? Not really. However, in our recent review of Magellan's organizational and facility provider handbook supplement, we realized that we hadn't clearly communicated this expectation. So, in our updates for 2020, we added the bullet point circled in the screenshot below.
We appreciate your help to keep our members in the know. Besides notifying the member of the level of care that Magellan will authorize, what else can you do in the event service is denied? We know you want to help members get the care they need, and while it may seem as though an adverse determination from Magellan is a dead end, you do have the right to appeal.
What you need to know about appealing adverse determinations: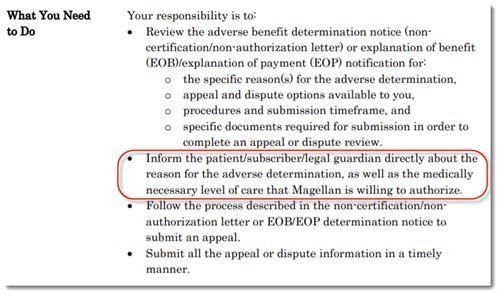 Magellan commits to the following with regard to adverse determinations:
Inform you in writing, in a clear and understandable manner, of the specific reasons for the adverse determination.
Identify specific information, documents, records, etc., needed to assist in a favorable dispute or appeal decision.
Thoroughly review all information submitted for an appeal or dispute.
Respond to appeals and disputes in a timely manner.
Notify you of any additional appeal or dispute options that may be available when an unfavorable appeal or dispute determination is rendered.
Thank you for caring for Magellan members.