features Magellan wants YOU for the telehealth network
Magellan members in the 50 states and Puerto Rico could be waiting to connect with a provider like you via telehealth.
With more and more plans offering telehealth as a covered benefit, expanding your practice could be as close as the screen in front of you.
Through telehealth, you can have real‐time, two‐way communication via secure online virtual sessions, and treat members at a place and time that fit best into your schedule – and theirs.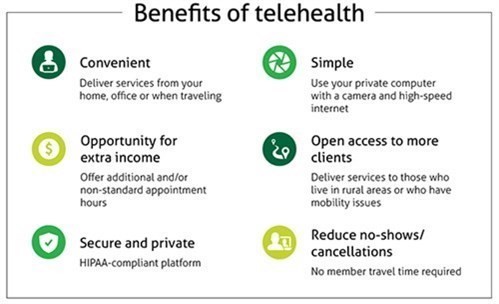 Where is the greatest need?
We're glad you asked.
EAP providers licensed in North and South Dakota and Wyoming using a HIPAA-compliant telehealth platform
Prescribers (MD and APN) licensed and using a HIPAA-compliant telehealth platform in the following states: Alaska, Kansas, Missouri, Montana, Nevada, New Hampshire, North and South Dakota, Oregon, Rhode Island, West Virginia, Wisconsin, as well as in the U.S. territory of Puerto Rico.
Getting started
Already providing telehealth today using a HIPAA-compliant telehealth platform? Simply complete and submit Magellan's online telehealth attestation. You'll need to enter your Magellan MIS number; if you do not know your MIS number, call us at 1-800-788-4005 to request it.
Not doing telehealth for  EAP but interested? Contact us at SEandCentralNetwork@MagellanHealth.com with your questions or concerns. California providers can email CaliforniaProvider@MagellanHealth.com. 
Additional questions? Visit our Telehealth webpage under the Education menu on our provider website. You'll find FAQs along with other resources, including our recorded webinar, "Telehealth 101" (after secure sign-in) available for CE credit and at no cost to you.
Thank you for considering telehealth. Together, we'll be able to deliver access and services to those who need it.