region/plan-specific news : California For facilities: Help your patients find in-network care, post discharge
As you are aware, patients discharging from an inpatient level of care need outpatient follow-up care. One of the largest barriers to receiving this care within the recommended 7-day and 30-day windows is cost to the patient.
To reduce the cost-of-care burden, please help Magellan members utilize one of our in-network providers for their follow-up appointments.
Identifying an in-network provider for follow-up care is as easy as 1-2-3-4. Just follow the steps below. We also encourage you to confirm that the outpatient providers you already refer to for lower levels of care are within the Magellan network. Taking this step will reduce financial hardship for vulnerable patients.
Go to MagellanAssist.com and select "Find a Provider" under "California Residents Provider Search."
Choose either "California Providers" or "California Facilities" based on the level of care the discharging patient requires. Select "California Providers" if a patient needs an outpatient therapist visit or select "California Facilities" if a patient needs a lower level of intensive care.
Enter the ZIP code based on the patient's discharging location and set the Distance drop-down to 10 miles. In our experience, any greater distance may discourage a patient from traveling and getting post-discharge care.
If necessary, help a patient find a provider who meets their specific needs using one of the many drop-down filters. If a patient is seeing a new provider (meaning they do not have a pre-existing relationship), select "Accepting New Patients." Then select "Search."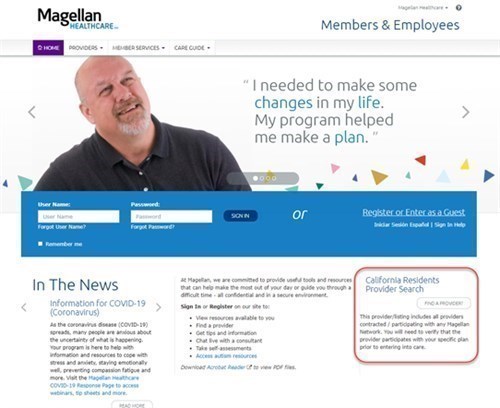 If a provider or facility appears on MagellanAssist.com, they are in-network. Magellan ensures that all in-network providers demonstrate quality clinical outcomes. When a member utilizes their in-network benefit to go to an in-network provider or facility, it can help reduce their out-of-pocket costs.
Thank you for your continued collaboration! The tips above support NCQA requirements and more importantly, help members receive the services they need.