features You're vital in the effort to prevent suicide
September is Suicide Prevention Awareness Month – resources for you, your practice and your patients
As a mental or behavioral health provider, you're all too aware that suicide is a serious public health concern. In addition, impacts from COVID-19 have contributed to suicidal ideation more than doubling in the U.S.1
Help prevent suicide
Knowing the risk factors and recognizing the warning signs can help prevent suicide.
That's why we encourage you to share resources from our Healthwise library with anyone you know who could benefit, especially Magellan members in your care.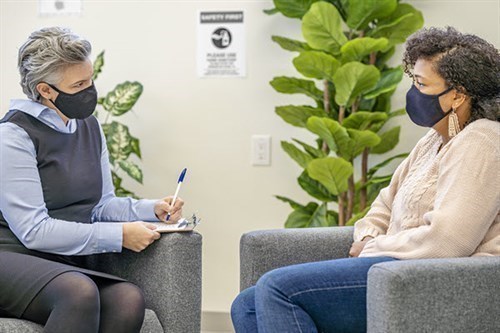 "The seemingly simple act of asking how the pandemic has affected your patients' lives and providing a safe space for them to be heard can go a long way toward validating their lived experience and gauging the necessity for a more comprehensive intervention," observed Magellan Healthcare Medical Director Rakel Beall-Wilkins, MD, MHP, in our feature article on suicidal ideation in the wake of COVID-19.
The following protective measures can also help individuals 
Contact with providers (e.g., follow-up phone calls from a healthcare professional).
Effective mental healthcare with easy access to a variety of clinical interventions.
Strong connections to individuals, family, community and social institutions.
Problem-solving and conflict resolution skills.
Join us for these upcoming virtual events
Stamp Out Stigma Twitter chat on suicide prevention with Magellan Healthcare co-host, Rakel Beall-Wilkins, MD, MPH, Thursday, Sept. 9, 2 – 3 p.m. (Eastern). 

Follow @StampStigma and use #SOSChat to join the conversation and participate.

Magellan Health webinar, Taking action to prevent suicide, with moderator, Caroline Carney, MD, MSc, FAPM, CPHQ, Magellan Health chief medical officer; and presenters, Rakel Beall-Wilkins, MD, MPH, and Jamie Hanna, MD, Magellan Healthcare medical directors, Tuesday, Sept. 21, 2 – 3 p.m. (Eastern). Learn more and register for free.
Stay Home for MY LIFE (Magellan Youth Leaders Inspiring Future Empowerment) virtual youth fest on suicide prevention, Thursday, Sept. 23, and the fourth Thursday of every month, 6 – 7:30 p.m. (Eastern).

Take part in this fun and inspirational event for youth who have experience with mental health, substance use, juvenile justice and foster-care-related issues.
Register for free, and visit the MY LIFE Facebook page for more information and updates.

Magellan Healthcare eMpowered for Learning webinar for free CE credit, The intersection between trauma and suicidality: Basics for building trauma-informed peer relationships with Cheryl S. Sharp, MSW, ALWF, Sharp Change Consulting, Inc. CEO, Tuesday, Sept. 28, 2 – 3:30 p.m. (Eastern).
Resources for you, your practice and your patients/clients
Access our Healthwise library of resources that you can share with your patients, as well as Magellan's clinical practice guideline (PDF) for assessing and managing the suicidal patient and a tip sheet (PDF) for keeping the suicidal patient safe.
We encourage you to use these resources and share with family, friends and colleagues, as you deem helpful.
Join Magellan in taking action and commit to zero suicides.
1, National Institute of Mental Health