features Suicidal ideation in the wake of COVID-19
Research shows younger adults, racial/ethnic minorities, essential workers and unpaid adult caregivers are disproportionately affected — what you can do to help.
"Mental health professionals are uniquely positioned to offer much needed support and guidance to those struggling amidst the pandemic, and our collective efforts can not only reduce morbidity but save lives, too," stated Rakel Beall-Wilkins, MD, MHP, medical director at Magellan Healthcare, who contributed insights for this article.
Current research
The pandemic has had broad-reaching impacts on both the physical and mental well-being of individuals and communities around the world.
In a study conducted by the CDC and U.S. Census Bureau, upwards of 41.5% of Americans reported symptoms of a depressive or anxiety disorder.[1]
Many people grapple with the chronic stress of uncertainty, and in some cases face tremendous financial, social, medical and emotional hardship at the same time.
More than 600,000 Americans have succumbed to COVID-19, leaving a wake of grief, loss and loneliness among the living.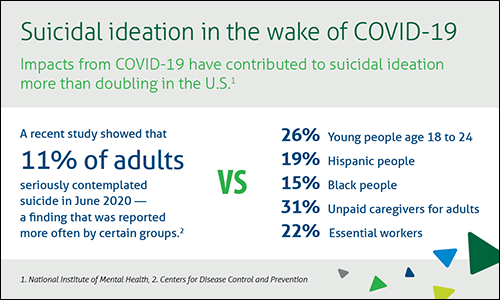 For some, the weight of the last 18 months has pushed them to the brink of contemplating suicide.
Contributing causes
Taken together, these arresting statistics indicate that the most vulnerable among us have been shouldering the brunt of the pandemic's worst mental health impacts.

What we can do now

For all patients, the seemingly simple act of asking how the pandemic has affected their lives and providing a safe space for them to be heard can go a long way toward validating their lived experience and gauging the necessity for a more comprehensive intervention.
For patients who screen positive for mental health disorders, consider both psychotherapeutic and pharmacological treatment modalities to reduce symptomology and the potential for harm to self or others.
For patients with suicidal thoughts, be certain to screen for access to lethal weapons, and abuse or misuse of both prescription and illicit drugs, as well as alcohol.
For patients with caregivers, also consider screening caregivers for mental health symptoms.
Now more than ever, it is evident that primary care providers and behavioral health professionals must remain vigilant in treating and screening for mental health disorders, thoughts of self-harm and maladaptive coping behaviors. 

This is especially true in your services to young adults, ethnic minorities, essential workers and unpaid caregivers.

Accompanying resources

Be sure to check out our accompanying resources for Suicide Awareness Prevention Month.
---