region/plan-specific news : Pennsylvania HealthChoices Are members "lacking insight," or at the pre-contemplation stage?
Magellan of Pennsylvania's barrier analysis related to follow-up after hospitalization rates shows reframing and embracing the stages of change may make all the difference.
We often hear about individuals who are "resistant" to treatment, or who "lack insight." This usually refers to someone who does not recognize that they have a behavioral health condition and could benefit from treatment and services. Sometimes labeling a person this way is the end of the discussion—implying that nothing can be done, and absolving everyone involved of having to do anything until the person "admits they have a problem" and "starts cooperating with treatment."
However, it can be most helpful to adjust our view of this challenge and the language around it. James Prochaska and Carlo DiClemente introduced the Transtheoretical Model, more commonly known as the "Stages of Change" model, decades ago, as a novel way to view readiness for change, and the model has since been incorporated into many models of treatment and recovery, including Motivational Interviewing.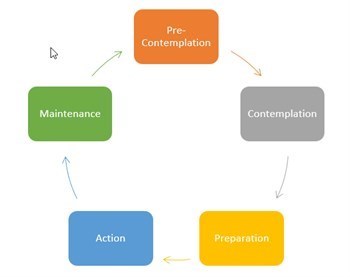 Magellan supports clinical models that embrace the Stages of Change.
If you find yourself labeling a member "resistant" or "lacking insight," ask yourself:
Can I reframe this, and instead say that the member is at the pre-contemplation stage?
If so, how might this member be viewing the current situation?
What can my team and I do to help move this person along to the contemplation stage?
If you truly believed that you did not have a condition that people are saying requires treatment, wouldn't you "resist" too?
Magellan supports Motivational Interviewing (William R. Miller & Stephen Rollnick) and other clinical models that embrace the Stages of Change, as they offer helpful guidance on how to intervene with a person who is at pre-contemplation, as well as at the other stages.