features New webinar series: Improve patient outcomes with these quality measures
Learn more about HEDIS® measures involving mental health and substance use, and what they mean for your practice, with Gary Henschen, MD.
Improving care after hospitalization, ER visit for mental illness or substance use
Improving medication adherence for depression and schizophrenia
Caring for children on ADHD meds or antipsychotics + screening/monitoring of patients with schizophrenia or bipolar disorder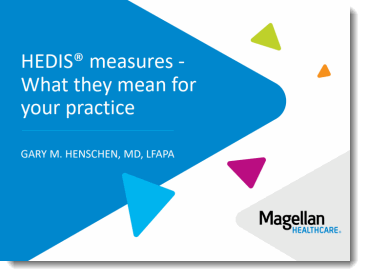 Need to return when you have more time? Bookmark the Online Training page of our provider website, where these webinars and the associated slide decks can be found permanently.
What is HEDIS?
Designed by the National Committee for Quality Assurance (NCQA), the Healthcare Effectiveness Data and Information Set (HEDIS®) is a collection of over 90 measures consisting of various evidence-based clinical guidelines for services rendered to commercial, Medicare and Medicaid HMO, POS and PPO plan members. More than 90 percent of America's health plans use this tool to measure performance on critical dimensions of care and service.
HEDIS measures that are specific to behavioral health: 
1. AMM: Antidepressant Medication Management
2. ADD: Follow-Up Care for Children Prescribed Medication for Attention Deficit Hyperactivity Disorder (ADHD)
3. FUH: Follow-Up after Hospitalization for Mental Illness
4. IET: Initiation and Engagement of Alcohol & Other Drug Dependence Treatment.
Two of the measures (AMM and ADD) are linked to medications, and the other two (FUH and IET) to inpatient and outpatient treatment.