features EAP providers: Don't miss these tips for serving federal civilian (FOH) employees
Do you provide services to members in the Federal Occupational Health (FOH) program?* The professional services you provide to these employees are services that can impact their lives, families and work community, which in turn, benefit us all. Thank you!
Make a statement
The FOH Statement of Understanding (SOU) form was updated recently. Be sure you complete the new form for all cases on the initial visit. You will find the SOU form in the client's EAP registration packet, which is available after you sign in to www.MagellanProvider.com. You can also access it by scrolling down to the forms section of the FOH appendix (PDF) to the EAP Provider Handbook Supplement (PDF).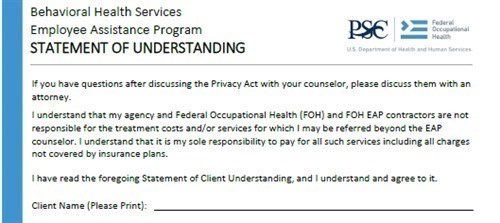 Find the SOU form in the client's EAP registration packet, available after you sign in to MagellanProvider.com.
It's summertime...and the living is EASI
The online EASI Form is now working. If you haven't tried submitting the online form recently and are still faxing the hardcopy form, give electronic billing another try. Submitting the online EASI Form helps you get paid more timely for the services you provide.
Other best practices
Please contact clients within 24 business hours to set up an appointment and keep your availability current on www.MagellanProvider.com, per Magellan guidelines.
If you make a referral, you should follow up (or attempt to follow up) no later than four weeks after the referral; this should always be documented in the case.
If you identify a risk/threat of violence, clearly document the interventions ensuring they were appropriate and adequate.
Include demographic information on the face sheet, client intake form or in case documentation.
Include clear documentation that you obtained the client's permission to contact them and their preferred method of contact.
When making a post-treatment referral, indicate whether you identified appropriate providers/resources and if you gave the client choices, e.g., higher level of care, community/self-help resources.
When you need a case consultation with a Magellan case manager, always document this.
*The FOH EAP serves over 1 million federal civilian employees who work in over 500 different agencies and departments throughout the government.