features Telehealth has never been a better way to connect with your clients
Magellan providers have been flocking to telehealth technology since the stay-at-home orders began in March. 
Are you one of them?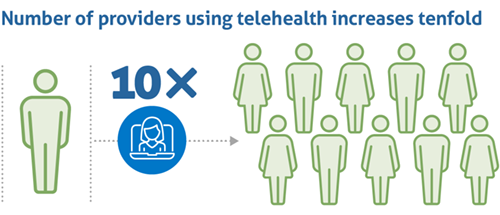 If you or others with your practice are new to offering telehealth sessions as of this spring, we applaud your efforts to support our members during this very difficult time. Thank you!
Jennifer Erb Caramenico, MA, LPC, a Magellan provider in Pennsylvania shared her experience about implementing telehealth in her practice during the COVID-19 crisis. She writes:

We are doing well with telehealth. Most of our members have been very open to using it while the office is closed. Although I was initially resistant to using telehealth, I am happy to say that I was wrong. I think having the option available for clients will benefit them and us in the long run. I am appreciative that we can maintain accessibility for our clients and new members who need services.

We are providing HIPAA-compliant services, so we are ready for the transition when things go back to "normal." 

 

Still considering telehealth?

Deliver your same high-quality professional services virtually

Treat members at a time that works, and a place that's safe and secure for both of you. Through telehealth, you can have real‐time, two‐way communication via secure online virtual sessions. 

Telehealth is a great tool to keep you connected with your clients at a time when everyone is feeling more anxiety and disconnectedness than usual.

Magellan has temporarily waived the requirement to complete a telehealth attestation during the COVID-19 crisis.

To learn more about using telehealth with Magellan members during this time, go to MagellanProvider.com/crisis. We've also compiled these hot topics for telehealth providers. 

Going forward

If you plan to continue using telehealth with your Magellan clients following the state of emergency (and we certainly hope you do!), make sure you complete the telehealth attestation at MagellanProvider.com/telehealth. Doing this will designate you as a provider with a telehealth specialty in our Provider Search.

If you are an in-network Magellan provider, you don't need to become credentialed for telehealth or make any changes to your provider contract. It will be important to check member benefits for telehealth sessions, as coverage for this can vary, outside the COVID-19 context.

More information