features Five ways to practice gratitude during the holidays and beyond
Plus, a recent webinar on emotional wellbeing during the holidays, and other resources you can share
The holidays are busy, and the extra demands on your time due to shopping, cooking, cleaning, party planning and attending events can be so stressful. Then there's juggling sessions with clients, running your practice and still trying to find time for family and friends, oh, my!
As you likely know so well, focusing on gratitude can help improve wellbeing. Studies suggest1,2 that people who practice gratitude are more optimistic, pleased with their lives and connected to others when compared to those who reflect on daily hassles.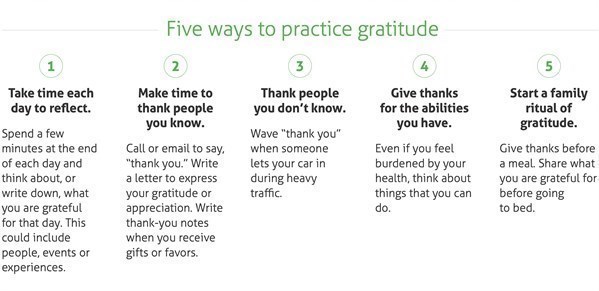 Source: Healthwise
What is your favorite way to stay centered during the holidays and beyond? Is it gratitude or something else? Let us know at Editor@MagellanHealth.com.
Magellan joins with you in planning for emotional wellbeing and celebration. May your holidays and those of your friends, family and clients be full of peace and joy. 
Catch the replay of the holiday emotional wellbeing webinar

In this recent webinar, hear the inspiring recovery story of someone who lives with seasonal depression, followed by a discussion with Magellan clinical leaders on ways to foster emotional wellbeing during the holidays.

Need inspiration for finding balance during the holidays?

 
1 Emmons RA, McCullough ME (2003). Counting blessings versus burdens: An experimental investigation of gratitude and subjective well-being in daily life. Journal of Personality and Social Psychology, 84(2): 377–389.
2 Froh JJ, et al. (2009). Gratitude and subjective well-being in early adolescence: Examining gender differences. Journal of Adolescence, 32(3): 633–650.