features Now you can check your network participation status online at MagellanProvider.com
We get it: You need up-to-date and accurate information to keep your practice running smoothly.
Now you can Check Network Participation on MagellanProvider.com. This app will display on your My Practice menu after sign-in for individual/group member and facility providers.*
Your status
If your status shows ACTIVE, it means you are contracted for at least one Magellan network and that you are currently credentialed.
If your status shows INACTIVE, it means you are either not contracted for at least one Magellan network, or that your credentialing has expired.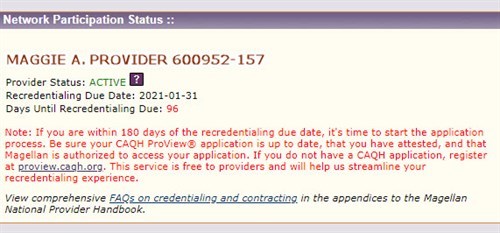 Your contracting/credentialing status is available at a glance in the Check Network Participation app
(after secure sign-in).
Countdown to recredentialing
If you are within 180 days of your recredentialing due date, you will see a countdown and a reminder to begin the recredentialing process. Be sure to complete next steps in a timely manner so Magellan can process your application by your recredentialing due date.
More information
You can find information about credentialing at MagellanProvider.com. From the Get Information box, select Provider Handbook and Supplements.
Questions?
If you need to confirm you are in network for a specific member's plan, you may contact ProviderServices@MagellanHealth.com or send us a secure message via MagellanProvider.com. Be sure to include your name, NPI, Tax ID, and address, along with the member's plan information.
* Note: The new app will not display for the group entity, since credentialing applies to the group members only.