region/plan-specific news : Employer Plans Nationwide EAP providers: Help members get an urgent appointment with telehealth
When a member needs an urgent appointment with a provider for EAP counseling, but a scheduling conflict prevents an in-person session, telehealth can help.
Many employer plans are now offering telehealth as a covered benefit to Magellan EAP members. This benefit gives members the same number of telehealth EAP counseling sessions as the in-person counseling model offers.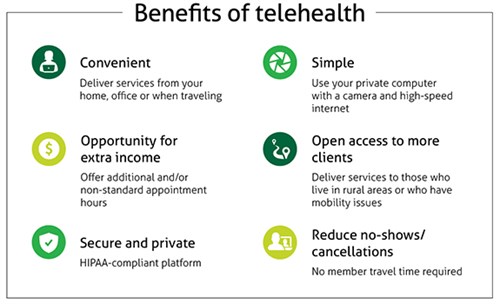 The telehealth EAP counseling services can help alleviate the challenges of attending
a traditional in-person session, while also giving you more flexibility with scheduling.
Join Magellan's telehealth network
Are you already providing telehealth today using a HIPAA-compliant telehealth platform? Simply complete and submit Magellan's online telehealth attestation. You'll need to enter your Magellan MIS number.
Interested in providing telehealth but need a platform or more information? Tell us more about your telehealth needs. You'll need to enter your Magellan MIS number.
Have additional questions? Visit our Telehealth webpage under the Education menu on our provider website. You'll find FAQs along with other resources, including our recorded webinar, "Telehealth 101" (after secure sign-in) available for CE credit and at no cost to you.
What happens next
Once you've completed the attestation, the Magellan network department will review it to determine if you meet the criteria for inclusion in our telehealth network. If you do, the indicator for "telehealth" will be added to your profile in the Magellan provider directory, and you will be able to start connecting with Magellan members via a secure telehealth platform.