features Helping PCPs collaborate for the best patient outcomes in behavioral health
Magellan enhances its PCP toolkit
One of the ways that Magellan promotes collaboration between primary care physicians (PCPs) and behavioral health providers (here's looking at you!) is with our newly redesigned behavioral health toolkit for medical providers, or as we're apt to call it, the PCP Toolkit.
The materials in this toolkit are designed to give medical practitioners the information and screening tools needed to address their patients' behavioral health needs, including assistance with referrals to Magellan providers.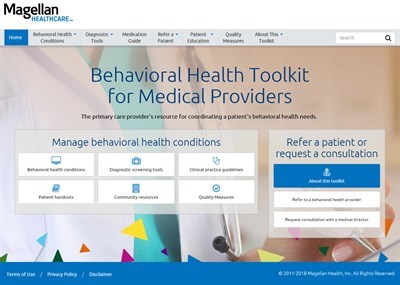 The toolkit represents our commitment to promote integration of medical and behavioral health services, toward the goal of better outcomes for patients.  
Practitioners serving members whose behavioral healthcare is managed by Magellan also have access to expert behavioral health consultations by Magellan's master's-level care managers— when a PCP calls Magellan, a care manager will work with them to determine the most appropriate resources based on patient need and preference, provider specialty, as well as other specific member requests or considerations.
We also are proud to announce that our PCP Toolkit recently received a Platinum MarCom Award, for excellence in communications materials and programs, by the Association of Marketing and Communications Professionals (AMCP).
Feel free to share the PCP toolkit with any PCPs of your acquaintance.