columns : Network Notes
Your same high-quality professional services… delivered in a new way
Explore telehealth.
Are you open to expanding your referrals and using technology to advance your practice? Would you like to help more people, but are hindered by your schedule or the scattered geographic locations of your potential patients? If so, you may want to explore telehealth.
Magellan is expanding our video-based counseling capability for members, and we urge you to consider offering convenient telehealth services to your current and potential patients whose benefit plans cover telehealth.
Through telehealth, you can have real‐time, two‐way communication via secure online virtual sessions, and treat patients at a place and time that fits best into your schedule – and theirs.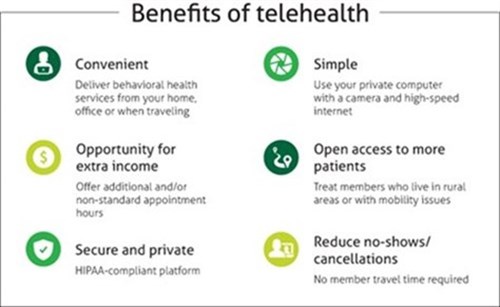 Getting started
Are you already providing telehealth today using a HIPAA-compliant telehealth platform? Simply complete and submit Magellan's online telehealth attestation at: http://bit.ly/2d9Ezw3. (Note, you will need to enter your Magellan MIS number to complete this form.)
Need more information? If you are interested, but currently aren't providing telehealth services or aren't sure if you have a HIPAA-compliant telehealth platform, visit our Telehealth webpage under the Education menu on our provider website to find FAQs along with other resources.
Thank you for considering telehealth. Together, we'll be able to deliver access and services to those who need it.